Power Washing
What To Expect
Our professional power washing crews come equipped with their own power washers, hoses and supplies. All of our power washing cleaning crews are insured, bonded and are experienced at what they do. Please view our testimonials page for more information and click on the Request Free Quotes to get started with your power washing maintenance program today.
Are your sidewalks and driveways collecting lots of dust, dirt and grime; do your shutters need a hose down? Has it been a while since you had your siding, porch and fence cleaned? Property Refresh, Inc can help!
We realize that our customers don't have their own power washers lying around, and therefore, need to hire professionals who have the experience and equipment to power wash their items for them. By hiring a professional, rest assured you can leave the details to us; we will ensure that the correct nozzle and supply is being used according to the task at hand and we will always leave each workspace clean and clear.
Here at Property Refresh, Inc we are available to power wash the following exterior items:

Buildings and homes
Driveways, sidewalks, pathways
Patios and outdoor furniture
Decks, balconies and fence
Shutters
Patios and outdoor furniture
What We Provide
We offer professional power washing services to all types of residential properties and businesses. Power washing (also known as pressure washing), helps to clean up items really well. It is fast, effective and easily helps with the removal of built up dirt, grime, mold, mildew and dust particles, which can contribute to allergies and asthma if left unattended for long periods of time. Regular power washing acts as preventative maintenance for your home or business.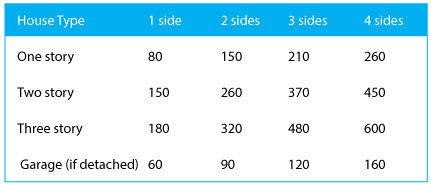 Pricing is applicable for houses under 3500 square feet and regular 2-car garages. You can order deck and fence power washing as well, as an addition to power washing of your house. Pressure washing is also available for concrete surfaces like driveways, sidewalks, patio, porch and other.

Sealing, staining, painting are available
Click on the Online Order to get started, Request Free Quotes or call us at: 224-386-4836 today